Colorado Safe Driver
Online Defensive Driving Courses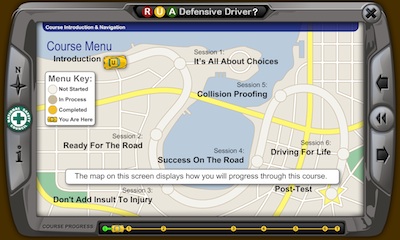 Please note that this course does not qualify you to obtain a driving permit.
DDC Online is a 4-hour online course based on the same content used in the National Safety Council instructor-led Defensive Driving Course — the most widely used driver safety program in the world. Through animation, narration, video and interactive exercises the online defensive driving course offers an engaging, interactive learning environment where students analyze real driving situations, spot driving hazards, and identify the correct defenses.
What you will learn

Defensive driving strategies and techniques to reduce the chance of collision
How drugs, alcohol, physical conditions and emotions affect driving decisions
How to deal with driver distractions and fatigue
Physical forces of a collision
The importance of occupant safety devices and how to use them correctly
More than 2 million people
have taken the DDC Online course!